Simple, lovely and spontaneous guitar riffs as well as a very crystal clear voice of a young and unpretentious girl among the other bandmates. Young Marble Giants has been described as a "shock" to the world in a period of agitation, frenetic and loud movement in the middle of the punk (post-punk) scene and also as a quiet and discrete, almost as intentionally disguised as a background band. Also, they have been labelled as "minimalist" which is a very ugly word in my opinion because it reminds me of effortless things, of nihilism and just taking the easy and pragmatic way, without any love or passion for what's being done. I don't see Young Marble Giants that way, it's quite the contrary: in my eyes, they are passionate, very passionate, something you notice on the lyrics ("
Nature intended the abstract for you and me
"). It's just that you don't have to be complex to be fascinating or to be overly elaborated, especially on music, to make something proper and valuable. Of course, you have to know how to do it. Young Marble Giants are simply humble and unpresumptuous which makes them very graceful and unique in their own way. Their music is definitely simple and almost casual, like a type of band you would listen to in a Saturday night, all alone.
Colossal Youth
is a marvellous album and one of the most concrete examples that music can remain in a novice level without being awful and being actually very beautiful. Of course, many people would not agree (especially progressive rock fans), but I guess that you just have to be more open to other mentalities to appreciate Young Marble Giants' sound.
Colossal Youth, 1980
Eating Noddemix
is a brilliant song with a strong narrative characteristic which makes it interesting. You don't really understand the conclusion of the narrative, but you know there was a murder and there's a
femme fatale
that getting ready for something. So I just associated those two facts as one: that
femme fatale
killed a man and goes hunting for me flesh to slit and blood to spill. Then, you have
N.I.T.A
that is also one of my favourite songs on the album. It talks about lonely souls, haunted and abandoned by their own old lovers. You have been abandoned but yet you weren't because you're still being haunted by that person who's supposed to be leaving you. Now that subject is very in-depth and insightful, quite enough.It's a song that clearly talks about loneliness, a song I used to listen in my own Saturday night loneliness.
Every song in this album has got this beautiful monotonic beat that kind of hypnotises you, as well as the synthesizers or the organ (
Wind in the Rigging
) that sound so characteristic of the post-punk itself and combined with the easy tabs of the bass and guitar contributes to the whole atmosphere of relaxation, insight, modesty and delicacy of the sounds and lyrics and the voice itself of Alison Statton.
It's not a masterpiece, that I can say, but it's a little delicate gem from the depths of the early 1980's that has been kept under veils and veils of lousy and cheap pop, glam-rock, hair metal music.
Philip Moxham, Alison Statton and Stuart Moxham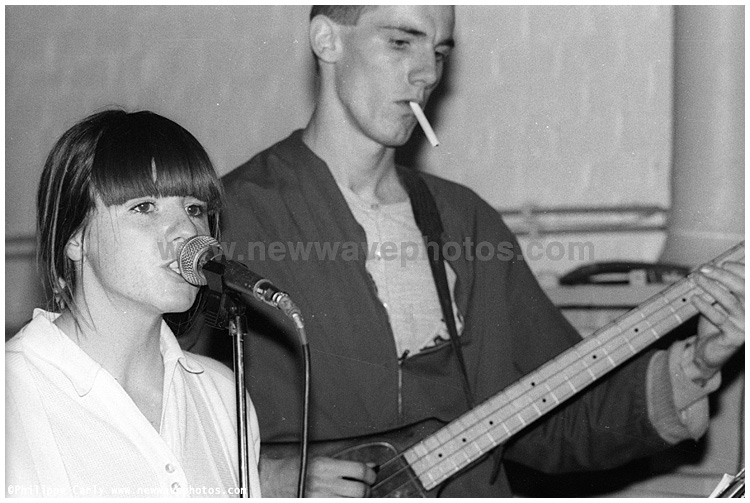 Photo courtesy of Philippe Carly: Alison Statton and Philip Moxham
Photo courtesy of Philippe Carly: Alison Statton
back cover of Colossal Youth